Philosophy/POLICY
coexisting with nature and the environment,
Create a safe and prosperous social infrastructure
Engineering for citizens
Engineering for Citizens
Civil & Environmental Engineering literally means engineering for citizens. Its role is to build and operate social infrastructure such as transportation, logistics, lifelines, roads, railways, rivers, bridges, tunnels, subways, harbors, water supply and sewerage, and electric power. , gas and other urban infrastructure planning, construction, operation, development and maintenance, maintenance and conservation of the social environment and natural environment, and disaster prevention to protect people's lives and assets from disasters.
Human resource image to be developed
For this reason, the Civil & Environmental Engineering Course focuses on various problems derived from cities (especially maintenance and conservation of the urban environment, disaster prevention against natural disasters such as earthquakes and typhoons), We will strive to educate and develop human resources who have a comprehensive perspective and the ability to make independent judgments and take action as civil engineers, who can demonstrate creative power.
Education method
In the Department of Urban Infrastructure and Environment, 3 people (professors, associate professors, and assistant professors) focus on the three fields of "social infrastructure," "environmental systems," and "safety and disaster prevention." .
Acquire sufficient basic and specialized knowledge of engineering and science related to civil engineering and environmental engineering, and cultivate the ability to proactively discover and solve problems.
Cultivate the ability to tackle and solve various problems in the city from both hard and soft aspects.
In particular, the graduate school actively promotes joint research with partner research institutes and foreign countries, and has a comprehensive perspective (international perspective, ethics, history, and cosmology) and rational intelligence, and is in a leadership position. We strive to educate and develop human resources who can contribute to society as a company.
Alumni active in leadership positions
Since the opening of Tokyo Metropolitan University, the number of graduates has reached more than 2000, and they have been providing guidance on civil engineering technology to the national government, local governments, JR companies, energy sectors such as construction, electric power, gas, steel and heavy industry, consultants, and educational and research institutes. I am active in a position
Students entering and graduating from Tokyo Metropolitan University and Tokyo Metropolitan University will also be civil servants (servants to citizens) who are needed in the society of the 21st century. We hope to become a person who can lead the future.
Organization / ORGANIZATION
Well-developed educational system
The admission capacity of the graduate school is 35 students per year for the master's course and 6 students for the doctoral course, for a total admission capacity of 88 students.Entrance exams are held in summer and winter for the master's program, and in winter for the doctoral program.In addition, the doctoral course has an admission system for working adults.
There are 6 professors, 8 associate professors, and 6 assistant professors, for a total of 20 faculty members. We operate.
Therefore, the maximum number of students who can take classes in specialized subjects is about 50 (undergraduate), and many assistant professors support seminars and practical training, so students can receive detailed education.In addition, in the graduation research conducted in the final year, the number of students per supervisor (associate professor or higher) is very small at 3 to 4, and in graduate school, it is almost 2 to 3, which is almost one-on-one guidance. it is possible to receiveOur university is a public school corporation established by the Tokyo Metropolitan Government, and tuition fees are on par with or lower than national university corporations (depending on conditions), so students can receive a high-level education at a low cost.
Research system covering major fields
In this department/major, we have established three research fields by grouping research fields of almost the same kind, and three or four research groups are arranged in each research field.The composition of research fields and research groups is as follows.
Infrastructure Field
Environmental System Field
Safety and Disaster Prevention Field
In this way, from the planning, development, and maintenance of social infrastructure such as roads, railroads, rivers, electric power, water supply and sewerage, and harbors, which are necessary for the infrastructure environment of the city, the urban environment, people's lives, and assets are managed naturally. It is a system that encompasses education and research in all fields, such as environmental technology to protect against disasters and disaster prevention technology.
In addition, about half of the faculty members of this department have graduated from universities other than this university, and there are many faculty members who have work experience outside of universities such as private companies and government agencies. It is also a big feature.
History/ HISTORY
Establishment and history of the Department of Urban Infrastructure and Environment/Urban Environment
1940,
Tokyo Prefectural Higher Technical School (later renamed Tokyo Metropolitan Technical College) Department of Construction Engineering opens
1949,
Tokyo Metropolitan University opens as one of the new universities
Integrated into the Faculty of Engineering, Tokyo Metropolitan University, along with five other metropolitan vocational schools.
The campus was located in Samezu, Shinagawa Ward when it was first established.
1956,
The Department of Construction Engineering is separated into the Department of Civil Engineering and the Department of Architectural Engineering.
1962,
Moved to Fukasawa, Setagaya-ku
1991,
Moved to the current campus in Minami-Osawa, Hachioji City
2005,
Integrate the four metropolitan universities and make the new university "Tokyo Metropolitan University"
Department of Civil Engineering, Faculty of Engineering, Tokyo Metropolitan University
Tokyo Metropolitan University Faculty of Urban Environment Department of Urban Environment
change to
2006,
Department of Civil Engineering changed to Department of Urban Environment, Graduate School of Urban Environmental Sciences
History of course organization
1949,
Establishment of Structural Engineering Course
1950,
Establishment of a traffic engineering course
1951,
Establishment of hydraulic engineering course
1962,
Moved to Fukasawa, Setagaya-ku
1991,
Moved to the current campus in Minami-Osawa, Hachioji City
1952,
Establishment of the Department of Civil Engineering Structures
1957,
Establishment of Sanitary Engineering Course
1967,
Establishment of Civil Engineering Applied Mechanics Course
1969,
Establishment of Department of Civil Engineering Materials
1972,
From the establishment of the civil engineering disaster prevention course and the traffic engineering course
Reorganized into Civil Engineering Planning Course
1994,
Establishment of a geotechnical course
1996,
Establishment of Urban Facilities and Environmental Design Courses (Civil Engineering 0.5/Architecture 0.5 Courses)
A total of 8.5 course systems were established
1997,
Due to the division of the graduate school, faculty
Transferred to Graduate School of Engineering
1998,
Reorganized from conventional small lectures to large lectures (reorganized into XNUMX lectures)
Infrastructure Planning Course, Civil Engineering Course, Water Environment Engineering Course, Geotechnical Engineering Course
2005,
With the transition to the new university,
Social infrastructure field, Environmental System Field, Safety and Disaster Prevention Field
Reorganized into three fields of
Future plan / PLAN
Learning/educational goals
In the Department of Urban Infrastructure and Environment, learning and educational goals are to acquire the abilities (A) to (H) shown below.By acquiring the prescribed number of credits for compulsory subjects, elective compulsory subjects, and elective subjects during the four years of the undergraduate course, these goals will be achieved, and the civil engineers needed by society will be nurtured.
Ability to acquire a wide range of knowledge in the humanities, social sciences, and natural sciences, recognize social problems, and think about things from a comprehensive perspective
Ability to understand the impact of technology on society, the natural environment, and the living environment, and to speak and act in a fair position with an awareness of responsibility as an engineer
Basic knowledge of natural sciences, mathematics and information technology, and the ability to apply and develop them
Ability to acquire specialized knowledge in the field of urban infrastructure environment and apply it to problem solving
Ability to discover issues and problems required of the urban infrastructure environment, obtain the necessary information, and solve them by utilizing specialized knowledge from a wide range of other fields related to the urban infrastructure environment. ability
Ability to systematically carry out learning under given constraints and summarize the results obtained
Ability to logically describe and present one's own thoughts in Japanese and have the ability to discuss them, as well as basic communication skills to adapt and play an active role internationally
Ability to learn voluntarily and continuously with the aim of improving technical skills
Aiming for engineer education based on social needs
In order to respond to changes in society and the expansion of the technical fields that civil engineers should be responsible for, the Department of Civil Engineering changed its name from the Department of Civil Engineering to the Department of Urban Environment from the 17 academic year. I am teaching a new curriculum.We believe that the content and level of the curriculum up to now are sufficient, but we are renewing the courses so that they are more responsive to social needs.Since the transition to the new curriculum is progressing year by year, currently students in the 1st to 3rd years are subject to classes in the new curriculum.
By the way, the number of universities that are accredited by the Japan Accreditation Board for Engineering Education (JABEE) (in fact, they are accredited as departmental programs) is increasing nationwide. there isHowever, due to the transition to the new curriculum, it is not possible to satisfy the certification requirements, such as the achievement of producing graduates. Currently, the above learning and educational goals are set, and the class content is improved by class evaluation questionnaires and the enhancement of the syllabus. Etc., we are working on items that correspond to the JABEE inspection items.
Appealing technical capabilities by acquiring qualifications
In order to meet the demands of society, build, maintain and manage safe and environmentally friendly social capital, and for the normal development of the civil engineering field, civil engineers must possess advanced technical capabilities. I think it is necessary to acquire appropriate qualifications as evidence.This applies not only to those who work for companies, but also to national and local government employees.
Representative examples of qualifications related to the civil engineering field include the following.
First-class/second-class civil engineering construction management engineer
surveyor, surveyor's supplement
Professional Engineer, Associate Professional Engineer
Qualifications for Technicians of the Society of Civil Engineering (Special Advanced, Advanced, 1st, 2nd)
RCCM (Civil Consulting Manager)
Chief Concrete Engineer, Concrete Engineer, etc.
Many of these qualifications are granted after several years of work experience after graduation, but on the other hand, the assistant professional engineer (primary examination for professional engineer) and the 2nd class engineer qualification of the Japan Society of Civil Engineers can be taken while attending school. is possible.Although it is necessary to pay close attention to the overemphasis on qualifications, it is also worth confirming the improvement of technical skills by acquiring qualifications in stages during the upper grades of the undergraduate school or during the graduate school according to the progress of the year. .For this reason, the Department of Urban Infrastructure and Environment recommends the acquisition of these qualifications from the perspective of encouraging each undergraduate student's desire to learn, and provides appropriate support.
Access method / ACCESS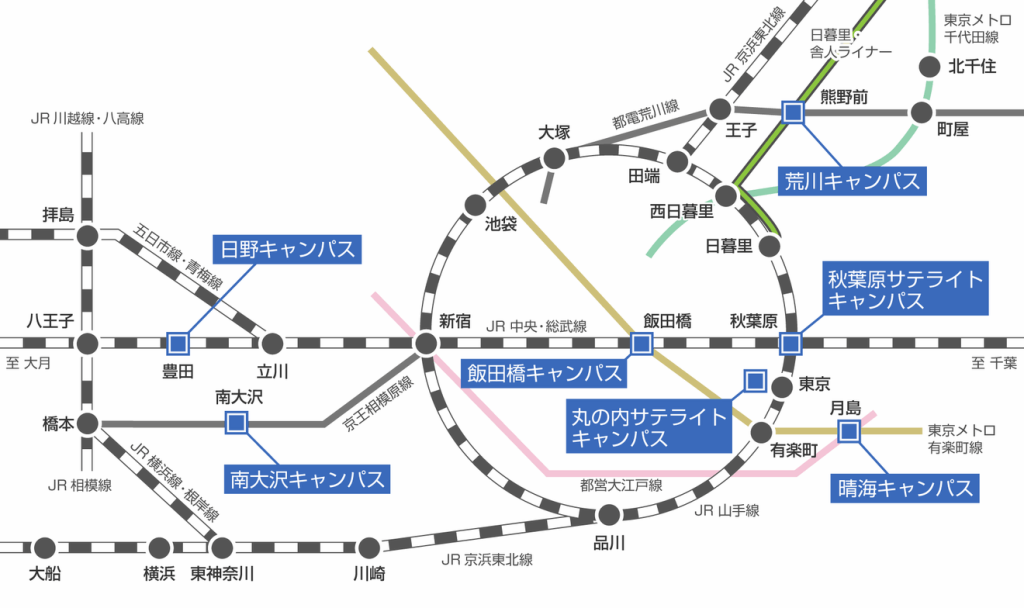 Minami Osawa Campus
Location
192-0397 Minami Osawa, Hachioji City, Tokyo 1-1
Tel 042-677-1111 (representative)
Affiliation organization
Faculty of Humanities and Social Sciences, Faculty of Law, Faculty of Economics and Business Administration, Faculty of Science, Faculty of Urban Environment, Faculty of System Design, Graduate School of Humanities, Graduate School of Law and Politics, Graduate School of Business Administration, Graduate School of Science, Graduate School of Urban Environmental Science, Human Health Science Research Department of Health Promotion Science
Access
Word Map (Word Directions)
About XNUMX minutes on foot from the ticket gate of Minami-Osawa Station on the Keio Line Sagamihara Line
*After exiting the ticket gate, you will see the campus surrounded by greenery on your right.