Features / FEATURE
Human resource image to be developed
In the Department of Urban Infrastructure and Environmental Sciences, various problems facing cities (especially reconstruction of vital national land and urban infrastructure in anticipation of declining population and super-aging society, efficient maintenance and management of urban infrastructure in preparation for aging, As a civil engineer with a comprehensive vision that is not bound by preconceived notions, with a focus on the maintenance, conservation, and creation of urban environments, and disaster prevention against natural disasters, he has the ability to make independent judgments, take action, and be creative. We educate and develop human resources who can demonstrate their abilities.
Program features
In anticipation of a declining population and a super-aging society, there is a need to rebuild vital national land and urban infrastructure, and to implement efficient maintenance and management to prepare for the aging of urban infrastructure facilities.In addition, now that the destruction of the global environment is being called out, it is necessary to develop infrastructure that coexists with nature and the environment, rather than just building buildings.Furthermore, in Japan, a country prone to disasters, we must build urban infrastructure against natural disasters such as earthquakes, tsunamis, and typhoons.
In the Department of Urban Infrastructure and Environmental Sciences, in order to foster specialists who will lead the future,Infrastructure Field""Environmental System Field""Safety and Disaster Prevention FieldWe aim to develop human resources with a comprehensive perspective and knowledge in the three fields ofIn addition, through international joint research, collaborative graduate school agreements with the Tokyo Metropolitan Government's Civil Engineering Support and Human Resource Development Center, and internships at the Tokyo Metropolitan Government, we are working to develop and maintain urban infrastructure, preserve and create the environment, and mitigate natural disasters. One of the unique characteristics of Tokyo Metropolitan University is that you can learn with a sense of reality.
Please note that the above content isPublication of educational informationOut of"Policy on Accreditation of Graduation", "Policy on Formulation and Implementation of Curriculum"It is published as Diploma Policy & Curriculum Policy for each department.
Course flow/FEATURE
Liberal arts subjects
In addition to compulsory subjects such as basic seminars, English, and information literacy, common basic subjects such as mathematics (calculus, linear algebra), physics, chemistry, and biology related to the Department of Urban Infrastructure and Environment are compulsory or elective subjects of this department. I'm here.In addition, by taking liberal arts and basic subjects offered by various departments, students will acquire the skills required of a graduate of the Department of Urban Infrastructure and Environment.Many students also take the "Urban Technology" offered by this department.
Specialized Courses
In the 1st and 2nd years, all students basically take basic studies in a wide range of technical fields, such as "structural mechanics," "soil mechanics," and "hydraulics."For major basic subjects, corresponding exercises are arranged to acquire basic skills.There are many practical subjects such as drawing, CAD practice, drafting, information processing, and experiments, and there is also surveying practice in the third year.In the "Technology of Urban Infrastructure" course, which is taught in English, students learn by investigating problems in each field together with foreign teachers and TAs.
In the 3,4rd and 4th years, the content of specialized subjects becomes more diverse, and students learn more deeply about highly specialized subjects such as "transportation system engineering," "water and environmental treatment technology," and "tunnel and underground space engineering." increase. In the subject "Urban Infrastructure Environment FBL", in addition to conducting site visits such as tunnels and dams under construction, we also offer internships at the Tokyo Metropolitan Government and the construction industry. In the XNUMXth year, students enter a laboratory and conduct special research while receiving almost one-on-one guidance from one faculty member and several students.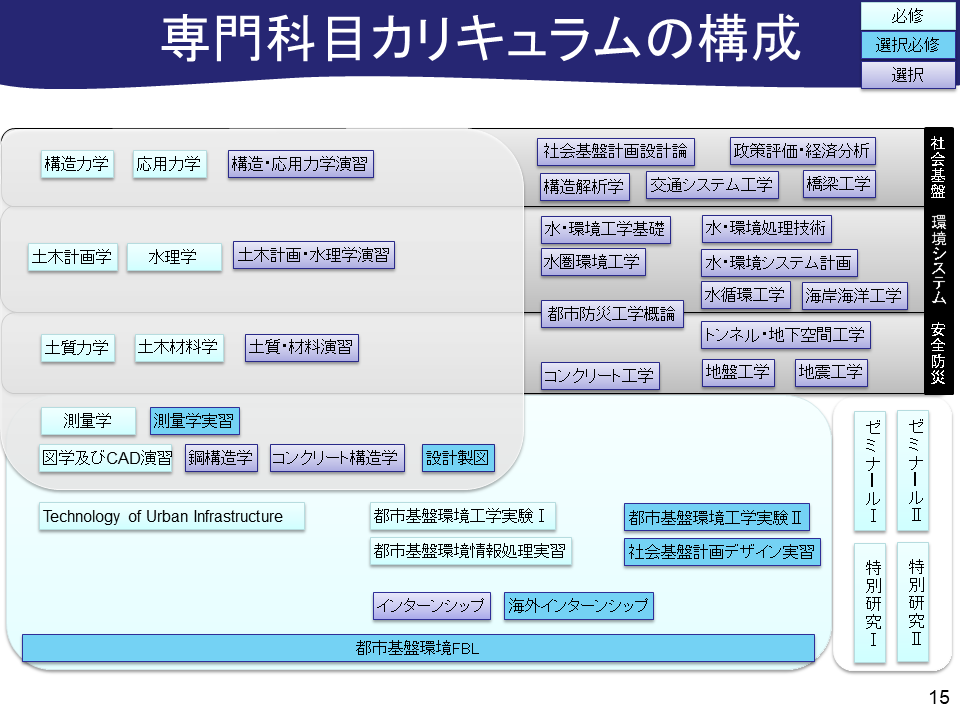 Education environment/EDUCATION ENVIRONMENT
All-university common facilities
As a university-wide facility, there is an information processing classroom.Information literacy, which is a compulsory subject for the whole university, and subjects such as "Graphics and CAD practice" and "Urban infrastructure environment information processing practice" among the specialized subjects of the Department of Urban Infrastructure Environment Classes are held using processing classrooms.
Urban Infrastructure Environment Laboratory
In Building No. 10, experimental facilities in the fields of materials, structures, soils, sanitation, and hydraulics are grouped together in the Urban Infrastructure Environmental Experiment Buildings A and B across the Urban Infrastructure Environmental Experiment Yard.In particular, the urban infrastructure environment experiment yard is utilized as a material loading/unloading and temporary stock, as well as a meeting place for experiments and practical training, and a practical place. Building No. 9 has a laboratory equipped with a driving simulator, where research related to the urban environment is conducted.
Admission system/EXAMINATION SYSTEM
various admission systems
The Department of Urban Infrastructure and Environment conducts a special entrance examination as part of the diversification of entrance examinations, in addition to the center examination and the general entrance examination based on the schedule of the first and second semesters as entrance examinations.The main special entrance examination systems are recommendation admission for students of high schools, etc. who live in Tokyo or are located in Tokyo, and designated schools accepted from high schools in Tokyo designated by this department based on the recommendation of the principal. There are systems such as recommendation admission, transfer admission from a technical college or junior college to the third year of an undergraduate school, and bachelor's admission for those who have graduated from other universities or other departments of this university and obtained a bachelor's degree. .
General entrance examination
The area in which the Department of Urban Infrastructure and Environment specializes requires knowledge of a wide range of subjects.For this reason, in the center exam, students are required to take Japanese language, science (physics and chemistry), mathematics (number (I)/number A, number (II)/number B), and foreign language (choose one subject from English, German, French, and Chinese). It is necessary to select XNUMX subjects from XNUMX subjects.In addition, in the second exam, mathematics, science, and foreign languages ​​will be asked in the first half of the schedule, and mathematics will be asked in the second half of the schedule.
Recommendation Entrance Examination / Designated School Recommendation Entrance Examination
In the recommendation entrance examination, evaluations other than written examinations (short essays and oral examinations on basic issues related to the urban infrastructure environment, etc.) are conducted.In addition, in the designated school recommendation entrance examination, an interview and document screening will be conducted.
Transfer entrance examination
The transfer entrance examination will be evaluated on foreign language, mathematics and an interview.
bachelor entrance exam
The first stage of the bachelor's entrance examination is a foreign language, and the second stage is an interview.
For information on the entrance examination (entrance examination schedule, application guidelines, etc.), please refer to theEntrance Examination InformationPlease see also the page of
The exam will assess foreign language, mathematics and an interview.
Undergraduate class/CLASS
Timetable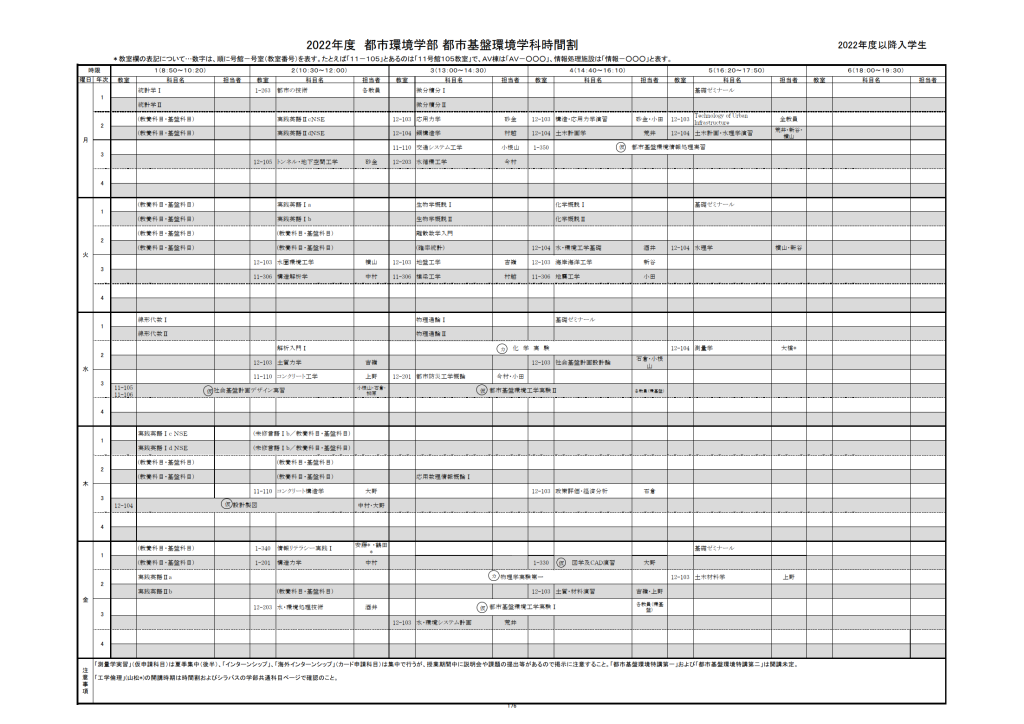 syllabus
The syllabus for each course is available from the University Education CenterSyllabus for non-members.
Graduate school courses / CLASS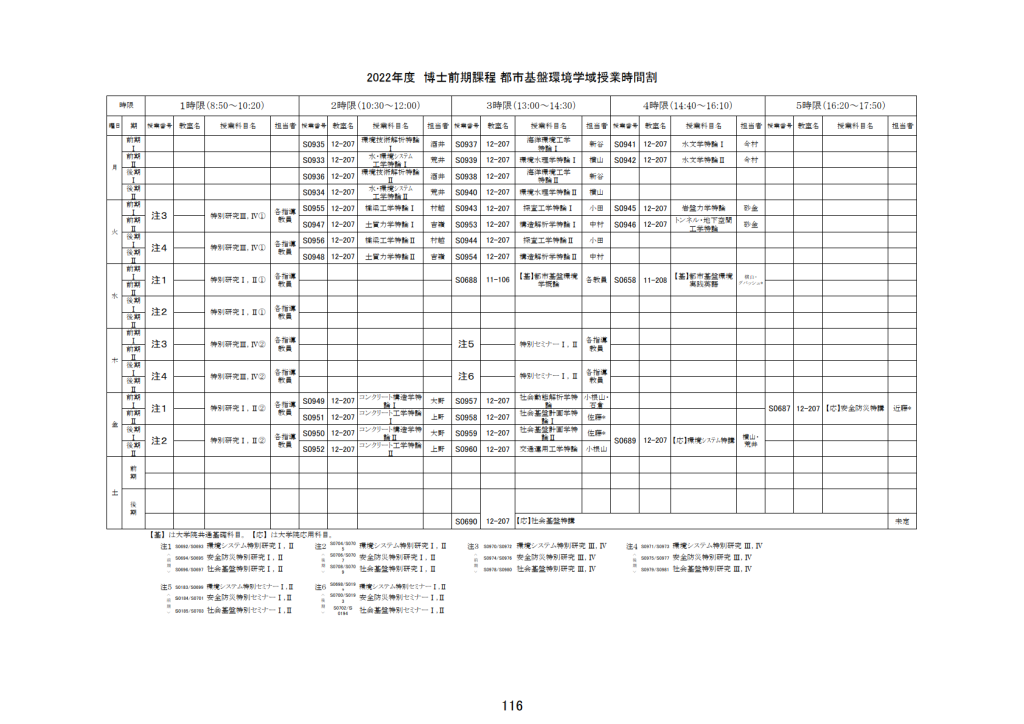 The syllabus for each course is available from the University Education CenterSyllabus for non-members.